Investing
Who we are | What we do | Management & Investment | How it works | Portfolio Investment Allocation | Investor Suitability |
Fund performance | Investment Strategy & Risk Management | Risk & Benefits
THE WORLD'S PREMIER COMBAT SPORTS HEDGE FUND
Bet on Combat® is a pioneer in sports investing and the utmost authority in the combat sports betting industry. Branded as the Bet on Combat Investment Fund or short form BOC Fund™ is a multi-strategy value fund suitable to investors who want to diversify their portfolio to include a product that is impervious to the financial markets and the general economy, and who seek returns that are uncorrelated to any other existing investment product. BOC Fund™ is offering a more aggressive investment opportunities to the investors by holding a diverse range of combat sports positions, providing good growth potential with a medium risk of short-term volatility.
The pooled investment vehicle is structured as an offshore fund corporation registered and licensed in the Caribbean Nation of Antigua, one of the world's fastest growing destinations for income investing and is regulated by the Antigua and Barbuda Financial Services Regulatory Commission. BOC Fund Group also conducts operations through its Los Angeles and Montreal offices, and aims to position itself as an innovator in the alternative investment management sector. BOC Fund™ was founded in 2010 by Franco Richard on a single principle — that all investors deserve a better way to invest. BOC Fund FUM are reported to be $2,357,134.07 million as of August 2017, making it among the top global sport fund management firms and one of the best alternative investment vehicles. In 2016, the firm was also reported to be one of the most profitable firms in the sports hedge fund industry, averaging a 28% annual rate of return over six years.
The Company's primary line of business is the Combat Sports Betting Investment Fund, that went live on January 1st, 2010. It is that investment product that is described in the following Investment Prospectus.
Combat Sports Betting as an Investment
Sports Betting Investment Funds have existed before the inception of Bet on Combat™. Some have failed as they were something that resembled more a scam. The few real Sports Betting Investment Funds mostly exist under the form of betting syndicates and only accessible to high wealth investors. Bet on Combat™ comes to revolutionize this area of the industry with the first transparent combat sports betting investment fund managed that is accessible virtually to everyone over the age of 21.
Combat sports betting is as alternative as an investment can be. Uncorrelated completely from any economic events or data it is not affected by business cycles and booms & busts of the economy. Positive excess returns in sports betting are generated by predicting true probability better /or more accurately than the market price at which the bet is made. The BOC Fund is underpinned by extensive statistical and probability analysis to identify intrinsic value in the individual markets. Much the same as in more traditional financial markets, investments are only made when there is a clear differential in the intrinsic value in any individual selection and that offered by the market(s).
A simple example below:
Georges St-Pierre is fighting Anderson Silva and the odds/market price for GSP to win is 1.13. If you are a hardcore GSP fanboy or an optimist who thinks GSP's chances are actually better than 76.9%, (1/1.13) then you place a bet on GSP to win. "In your perception" there is value on GSP to win at the current market price. Positive returns will be generated if your perception is true, and negative if untrue. It means that if this game was to be replayed a thousand times to eliminate the effect of luck, you would make money if GSP won more than 769 times, break even if they won exactly that amount of times and loss money if they didn't win 232 or more of those 1000 fights.
Theory supports the hypothesis that there is room to generate positive returns. The profit maximizing function for bookmakers says that their goal is to match the median expectations of bettors so they get money placed on the different outcomes proportionally. So the odds for events are priced according to the median expectations of the betting public, making it possible for those who can better estimate real probabilities, to generate profits.
The Philosophy
Bet on Combat's philosophy is to provide an economy proof investment alternative to traditional products such as stocks, bonds, real estate and other "traditional" investment vehicles and asset classes. Bet on Combat Investment Fund strives to be the most transparent and accurate source of value-bet combat sports prediction. The BOC Fund™ caters to every investment, small or big, that is looking to diversify his investments by picking a potentially rewarding alternative investment instrument.
We believe in a better way to invest
Bet on Combat™ was founded on a single principle — that all investors deserve a better way to invest. Supporting that principle, our goal is to be the best alternative investment firm on the planet, and consequently to take money out of the market with as little risk as possible and build a place people who are smart are drawn to. Bet on Combat™, an easier, smarter way to invest.

Market opportunity
Big data is the future! It represents an undeniable lever for growth and competitiveness, presenting the perfect gap to best exploit and enhance the mass of information available in the world of alternative financial asset trading. Just like stock trading or commodity futures trading, sports betting is a very legitimate financial trading asset class.
Trading of traditional financial instruments has become less efficient as more and more super computers and high frequency trading machines are developed into the financial trading space.
What is being traded in this day and age is information. The better the information, the better the trade, and the better the profit.
Every investment, is only as good as the information used for the informed decision making process of the investment. Whoever trades the best information simply makes the most profit. More valuable and functional information are readily available on the sports trading market than other traditional financial trading markets.
Ultimately, there is a sea of opportunity waiting to be exploited at the intersection where the world of managed investments meets sports trading.
Investment Strategy
The Combat Sports Investment Fund trades long and short combat sports strategies that have a directional component and relative value strategy on either sports betting exchanges or with registered bookmakers. The Combat Sports Investment Fund utilizes short and medium term time frames and also includes opportunistic intra-event trading as part of its overall strategy.
BOC Fund™ has a very conservative approach to combat sports betting that speaks to the fundamentals of bankroll management and value betting. Bet on Combat™ makes bets in pre-fight markets and live In-Fight Betting. Bet on Combat™ also trades on its open bets, so once a position is opened by placing a bet, BOC Fund™ can maximize the amount invested (outcome). The processes in place and the company structure allow a bankroll management with a discipline and rigorous criteria that individual investors virtually cannot achieve.
The Combat Sports Investment Fund uses an approach that is grounded in historical statistical data to analyze investment opportunities across a number of international combat sports events that are offered on global betting exchanges and by registered bookmakers.
Bet on Combat™ finds value bets in the sports betting markets. To do so Bet on Combat™ has put together a team of fight analysts that spans across different sports and geographies. This allows Bet on Combat™ to everyday be invested in the sports betting markets as we actively monitor the markets and look for bets where the market price is undervalued according to our experts' opinions. Our fight analysts only have the function of issuing recommendations on value bets and their recommended prices. The investment decision of how much to bet and where and at what price to place the actual bet is a decision belonging to the Bet on Combat™ Management team. Our processes deliver added value - it takes pressure off from the experts as there are only tasked with assessing prices for value bets - hence less liable for the final investment decision. In fact it allows the experts to focus their energies and preoccupations on the task they are cut out for, dampening other pressures that may affect their skill to evaluate value bets. By working with fight analysts with different betting styles, sport specialization and geographies, we add several layers of diversification to our final betting portfolio.
Sports Betting allows for a rate of capital turnover that probably no other investment instrument offers. What this means is investment's have a short time span and capital is readily available to be invested again, and can do so immediately. An football game lasts 90 minutes, plus 15 of half time and usually bookmakers settle the bets little after the final whistle. Same rationale applies to all other sports, well in the exception of cricket, or if one engages in more long term bets such as bets in the market for winner of the English Premier League. This is what allows BOC Fund™ to every month bet on average 4 times its Total Capitalization. This has a great impact on the returns an investor can achieve as shown in the example below...
BOC Fund™ in February had a Capital turnover of 4.08. This means it bet 4.08 times its Total Capitalization or Funds Under Management. The ROI% (profit over turnover) was +2.74%. but since the Capital TO was approx. 4 the Gross Return on Capital Investors got was +11.38%.
The Structure of BOC Fund
The BOC Fund is structured as a limited partnerships and the investors act as partners in the partnership. The management company is typically structured as a limited liability company. The BOC Fund, LLC (management investment company) typically maintain a bank account as well as several bookmakers account. The bank account is established by the management company and the Chief Investment Officer and fund managers have the authority to direct the fund's assets. The fund, through its board of directors, negotiates contracts with each of these entities to provide services for shareholders.
The attached chart provides the BOC Fund structure within the organization. The chart also details the movement of the management fee, the performance fee, the movements of money, and hedge fund subscriptions or withdrawals.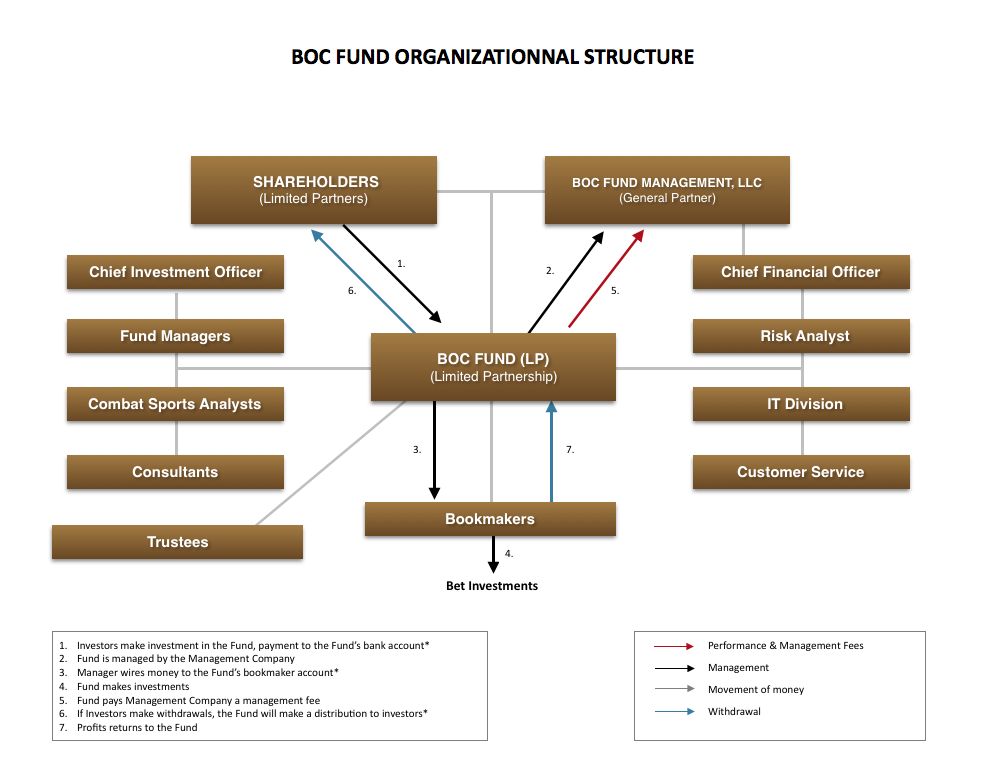 BOC Fund Investment Process
BOC Investment Fund is a pooled investment fund that is managed by Bet on Combat Group, LLC.
After subscribing for Shares, Investors will be issued Participation Shares which will be offered during the Initial Offering Period at an issue price of US$1,000 per Share. Investors subscribing on each Subscription Date will be issued a separate Series of Participation Shares.
The BOC Fund is administered in much the same way as those in traditional financial markets. Extensive portfolio and risk management principles are strictly adhered to with the results independently audited. The Fund will issue monthly reports with regards to net asset valuations of each Series of Participation Shares and the Net Asset Value per Share.
Additionally, investors can view their portfolio position at any time via the secured Investor's Area.
The BOC Fund has a bank account, the investors will subscribe to the fund (after sufficiently completing the subscription documents) by wiring money to the BOC Fund's bank account. The Chief Investment Officer will then wire the fund into several bookmakers accounts on the proper date. (The BOC fund offering documents will define when the investors assets are "credited" for the purpose determining the NAV at the time of the contribution.). The assets will become part of the BOC Fund's bookmaker account and can be used for investment purposes.
When there is a withdrawal, the opposite process occurs. The fund manager will direct the bookmaker/sportsbook to wire money to the bank; the manager will then direct the bank to wire money to the withdrawing investor. Management fees and performance fees will be paid to the manager in a similar process.
Investing on Human Capital
Bet on Combat™'s value derives in an essential part from the knowledge and expertise it is able to gather regarding different sports and competitions. Sports betting markets have experienced a continuing growing trend and will continue to do so. As bookmakers compete for market share they will be incentivized to offer odds on more and more competitions around the globe. As these pockets of specialization are created (like Beach Volley, Youth Russian Futsal, Table Tennis or whatever exotic combination of sport – competition you would like to think of) there will be more and more chances to generate positive returns. Bet on Combat™ will actively scout for the best expertize to cover as many segments of the sports betting markets as possible. There is a permanent effort to improve our network of experts and making it more multidisciplinary.
As of March 2016 our team of expert contributors is spread across more than 6 countries mixing several different sports and competitions. We also have diverse betting profiles that derive from our expert recommendations of value bets, meaning that Bet on Combat™employs a set of slightly different staking strategies and market preferences. This allows Bet on Combat™ to emulate all the knowledge and expertise of its network and structure, delivering gains in the sports betting markets as the end product.
Investment Horizon and Minimum Timeframe
Bet on Combat™ Investment Fund is not a "one-month wonder" — it takes a little while to make a very solid return, just like a safe investment. There is a 12 months' timeframe term after the acquisition of Membership Units. This means Membership Units have to be held for a minimum of 90 days.
Although the lockup period is a mere 12 months, the minimum recommended investment horizon is 3 to 5 years. That's how Bet on Combat™ was envisioned, and in a 2 to 3 year time horizon the possible achievable returns for BOC Fund™ are very attractive. Use a 365 multiplier for daily returns as Bet on Combat™ operates in the sports betting markets every day of the year. At least a medium term perspective is needed in other to overcome possible short term downside variation. So far no Investor has decided to discontinue their investment in BOC Fund™.
Funds Under Management
As a consequence of the success achieved in the last 5 years of lifetime, BOC Fund™ has benefited from the trust of investors and seen its Funds Under Management grow consistently since it's inception back in January 2nd 2010. Bet on Combat™ investors have come to understand the power of long-term returns versus unpredictable and erratic short-term results.
It is the company's goal to reach $10 Million of Funds Under Management before the end of 2020.
Minimum Investment
As stated before in this document this alternative investment is accessible to every investor over the age of 21 and the minimum investment into BOC Fund™ is US$1000 which is the price of One Participation Share. Investors subscribing to the Fund will be issued Participation Shares which will be offered during the Initial Offering Period at an issue price of US1,000 per Share.
Investors subscribing on each Subscription Date will be issued a separate Series of Participation Shares.
Performance Fees
Bet on Combat™ has a simple straight forward performance fee where 25% of the profits are retained by the Company. In essence this means that for every $ in profit the investor as receivable, 25 cents are taken by the Company as a performance fee. In the absence of profits there is no performance fee charged.
Quarterly Dividend (Profits) Distribution
BOC Fund™ announces results and distributes dividends on a quarterly basis. BOC Fund™ uses the calendar year with the following accounting periods; 1JAN – 31MAR, 1APR – 30JUN, 1JUL – 30SEP and 1OCT – 31DEC. After each period the net results are calculated and it is communicated to each investor how much he or she as to receive in dividends as a result of their Membership Units. Investors can then decide to redeem the dividends or to reinvest them.
Bet on Combat Overall Performance
Bet on Combat™ went live on January 1st with a nano capitalization of $250,000 and no outside investors. The intention by starting so early and small was to build a track record to actually show people and possible interested investors, that it is possible to make money from combat sports betting, more specifically that BOC Fund's value proposal delivers.
Since it's inception the BOC Fund™ has clearly outperformed the benchmark Dow Jones and S&P 500 indices, and yielded profitable results for investors. Most importantly it has achieved this with a significantly lower risk profile.
in 2015 alone, Bet on Combat's investment Fund reported a return of 52.78%. That same year the BOC Fund™ saw its success recognized and by the end of November it counted with 87 individual investors outside of the management team. This inflow of investment with the accumulated profits brought BOC Fund's capitalization close to $2,000,000 of Funds Under Management.
Bet on Combat™ Fund 2016, first two quarters have been spectacular with high and low results. The BOC Fund achieved very sound positive returns from January through June and delivered an average return on capital of +55.22% per month. From the last six months of operations, 5 were profitable and only January 2016 felt the sourness of losing money. January +4.84% ; February +63.47% ; March +95.44% ; April 74.87% ; May 55.06% and June 37.62%. In this time period 322 bets have been placed amounting to more than $140,675.21 wagered and subsequently the fund has gowned by 363%, doubling the initial capital over a two years time period and tripling over a a five years period. (figure 1.0).
Bet on Combat Investment Fund strives to be the most transparent and accurate source of value-bet combat sports prediction. See our documented proven betting track record on betoncombat.com/statistics.
IN CONSIDERING THE PRIOR PERFORMANCE INFORMATION CONTAINED HEREIN, PROSPECTIVE INVESTORS SHOULD BEAR IN MIND THAT PAST PERFORMANCE IS NOT INDICATIVE OF FUTURE RESULTS.
Performance Measurement
Net Asset Valuations
In the context of fund investments the Net asset value (NAV) is simply the funds price per share or exchange-traded funds per-share value. The NAV is one of the valuation indices of BOC Fund similar to shares of a mutual fund. The NAV of BOC Fund is calculated by reference to the total value of the fund's assets less its accrued liabilities (money owed to lending banks, fees owed to investment managers and service providers and other liabilities) and it's divided by the number of shares outstanding held by investors, thereby representing the net asset value per share. BOC Fund's shares are redeemed at their net asset value.
Shares and interests in BOC Fund are not traded between investors, but are issued by the fund to each new investor and redeemed by the fund when an investor withdraws. A fund will issue and redeem shares and interests at a price calculated by reference to the NAV of the fund, with the intention that new investors receive a fair proportion of the fund and redeeming investors receive a fair proportion of the fund's value in cash.
For example, if a fund has a NAV of $200 million and 1 million shares in issue on a certain day, the "NAV per share"—the price at which shares are issued—is $200. A person investing $40 million on that day will therefore be given 200,000 shares. Immediately following his investment the total NAV of the fund will be $240 million, as the new investor's cash becomes part of the fund and is available for investment by the fund. The investor will then be entitled to 1/6 of whatever the fund's value is when he withdraws his investment, if in the meantime his 1/6 ownership is not altered by any further withdrawals or investments to the fund.
The valuation of the assets and liabilities of the open-ended BOC Fund is therefore very important to investors. If the NAV in the above example had, with the same assets, been calculated as $160 million (and the NAV per share as $160), the investor would have been given 250,000 shares and would become entitled to 1/5 of the fund's value. In contrast, closed-end funds are traded in the open market between investors and so the price of shares or interests in a closed-end fund will be whatever the parties agree it to be, which may not correspond to the fund's NAV. Publicly traded shares in such funds generally trade at a price below NAV.
Net asset value and other accounting and recordkeeping activities are the result of the process of fund accounting (also known as securities accounting, investment accounting, and portfolio accounting). Fund accounting systems are sophisticated computerized systems used to account for investor capital flows in and out of a fund, purchases and sales of investments and related investment income, gains, losses and operating expenses of the fund. The fund's investments and other assets are valued regularly; daily, weekly, or monthly. BOC Fund investments are valued each day after the event is termed, using closing prices (meant to represent fair value),typically 4:00 p.m. Eastern Time. At the completion of the valuation process and once all other appropriate accounting entries are posted, the accounting books are "closed" enabling a variety of information to be calculated and produced including the net asset value per share.
The value of the assets and liabilities attributable to each Participation Share, as well as the Net Asset Value per Share and the method of valuation shall be determined by the Administrator. The financial statements of the Fund will be prepared in accordance with International Financial Reporting Standards.
In accordance with the Fund's Memorandum and Articles of Association, Net Assets Valuations ("NAV(s)") in respect of Participation Shares will be calculated by the Administrator at the close of business in Cayman Island on each Valuation Day.
The Fund will issue six monthly reports with regards to the NAVs of each Series and per Participation Share, based on the unaudited performance of the Fund.
Portfolio Exposure & Risk Management
BOC Fund™ is administered in much the same way as those in the traditional financial markets and it's not necessarily more risky than traditional financial investment. You can put your money into many different kinds of investments: stocks, bonds, mutual funds, real estate, etc. As most savvy investors know, each of these markets involve some sort of risk. And with potential high risk comes higher potential returns. The reverse also applies. The extent to which you can manage this risk determines how much money you make or lose.
Bet on Combat investment fund proven success relies for the most part from their ability to negate those risks or at least minimize them. As part of their strategy, The Board of directors developed and put in place an alternative investment model to manage these risks in a way that makes it an even safer (and much more lucrative) proposition than any of the markets mentioned above.
Since its inception, with a conservative view they ascertained targeted funds under management and diversified their portfolio risks. The Management team consistently looks for plays with an attractive risk-reward and allocates assets accordingly. Owing to the discretionary trading approach of Bet on Combat™ and the short to medium term nature of positions entered, risk management techniques employed are protective in nature. That been said, even though, a single bet by itself is a "risky" investment, in the sense the outcome is binary (you either lose all you invested or you win the full amount stated), a portfolio of bets is far from being a risky investment provided that there is a disciplined conservative investment strategy behind.
The maximum exposure/liability for any opening pre-event bet/trade is imposed at 3% of FUM. In play investment is restricted to a maximum exposure/liability of 1% of FUM owing to the reduced time to expiry of the trade/bet. In both trade types, stop loss orders are activated when a bet/trade is "out of the money" by 20% of initial liability. Similarly, in both trade types the Fund will enter positions with the intention of maintaining them for the short to medium term unless market influences, new information or analysis make it prudent to exit the positions to realize profits or to stop or mitigate losses.
The Combat Sports Investment Fund is not necessarily more risky than traditional financial investment. It carries a smaller number of risks. The BOC fund is independent of prevailing economic conditions, not affected by the economic cycle or financial market events and offers returns that are uncorrelated to any other mainstream investment product. There is no correlation between the outcomes of different sports events, so outcomes for the bets in the portfolio unlike the performance of the stocks in a portfolio have 0 correlation between themselves. Subsequently, in formulating a balanced and diversified investment portfolio we believe it is prudent to have exposure to this sector.
In terms of other characteristics associated to risk, there is no liquidity problems, the Company doesn't keep open positions and only deals with established and licensed brokers and bookmakers. The underlying terms for the instruments (bets) BOC Fund™ invests in are very clear and doubts should never arise, virtually no risk of having to enter litigation to claim due payments. Legislation in both Nevada and the United Kingdom regarding gambling is very favorable and both benefit from the economic impacts of the gambling industry.
Bet on Combat™'s staking strategy regarding its bets is very detailed with numerous guidelines and prevents Bet on Combat™ from having anything other than a conservative approach in the medium-long term. In the short term some variations of stance to a slightly more aggressive or defensive approach might happen but with no long term impact. Bet on Combat engages essentially in a diversification strategy where no single wager should greatly affect your balance, either positively or negatively. This way of managing the risk is similar to investing in the stock market, but much safer.
BOC Fund™ Extensive portfolio and risk management principles are strictly adhered to with the results independently audited on annual basis. Interim returns are communicated to investors via our website platform and quarterly statements reports.
If you are new to investing or into investing you must first educate yourself well and know your risk profile or tolernce level to risk. It's also good to know that most of the time, what you have invested has no guarantees, i.e. there's a possibility that you can lose your initial capital.
Determining your risk profile before investing:
What you are investing,
Your risk appetite, tolerance,
How long you wish to stay invested
The nature of the investment,
The risk nature
The capabilities of the management
Transparency and Auditing
It is our goal to set the standard for this future industry when it comes to transparency and standards of service. The legislations in which the companies of the BOC Fund™ group have to answer gives trust to investors, no remote places or fiscal heavens, our companies are under the arm of the American and British law. There is total transparency as to every investment (bet) BOC Fund™ make exists as every day a Daily Summary is published with the bets settled in the previous day and results for the day. Performance records can also be accessed on the website although there they are only updated 3 times a week. In search for an even higher standard the Company is working actively to ensure the auditing and accounting services of one of the big Consultancy firms as well as getting Legal Classification Advice from an expert law firm to validate whole of our operations.
BOC Fund® use an independent audit committee to audit the assets of the fund, and perform a complete audit of the fund's financial statements, as well as the predictions transparency. They ensure that the fund is operated in the best interests of the fund and its investors. The auditor also verify the fund's NAV and assets under management (AUM). The Audit Committees is composed entirely of independent directors made up of media members; that the committee meet with the fund's independent auditors. All have the relevant accounting and financial management expertise.
Annual financial statements will be provided, upon request, six months after the Fund's financial year-end.
BOC Fund Governance
BOC Fund has a board of directors and a team of analysts. Each one of these entities is responsible for serving the interests of the shareholders.
The objective of BOC Fund governance is to uphold the regulatory principles commonly known as the four pillars of investor protection that are typically promulgated through the investment fund regulation applicable in the jurisdiction of the fund. These principles ensure that: (i) The investment fund will be managed in accordance with the fund's investment objectives, (ii) The assets of the investment fund will be kept safe, (iii) When investors redeem they will get their pro rata share of the investment fund's assets, (iv) The investment fund will be managed for the benefit of the fund's shareholders and not its service providers.
The board of directors of BOC Fund is charged with looking after how the fund operates and overseeing matters where the interests of the fund and its shareholders differ from the interests of its investment adviser or management company. In order to enhance this system, at least 40 percent of the board is consisted of independent, or outside, directors. BOC Fund directors are either interested or independent. Interested directors typically are employees of the fund's chief investment officer. Independent directors, in contrast, cannot have any significant relationship with the fund's adviser or CAE, which allows them to provide an independent check on management. Unlike the directors of other corporations, BOC Fund™ directors are responsible for protecting consumers, in this case, the fund's investors. This unique "watchdog" role, which does not exist in any other type of company in North America, provides investors with the confidence of knowing that directors oversee the advisers who manage and service their investments. Together, these requirements make the concept of investor protection central to the way BOC Fund function.
To make this strong system of governance even stronger, the BOC Fund's Board of Directors has endorsed a series of best practices recommended by an Advisory Group of investment company, independent directors and senior industry executives. Recommendations of the Advisory Group are highlighted throughout this brochure.
Like any corporation, BOC Fund™ has a board of directors to oversee the way the business operates and to ensure that corporate policies are followed. The board of directors is elected by the investment company's shareholders. The board defines the type of funds that will be offered to the public. For example, it will suggest offering a selection of funds - growth funds, international funds, income funds and so on - to meet the investment needs of many individuals. It will also define each fund's objectives. The board also approve and hire the combat sports analyst, investment advisor, fund manager and custodian (defined below) for the fund.
The Industry Perspective
The most modest estimates value the sports betting industry at more than 700 billion USD$, with an expected annual growth of at least 6% and favorable advances in legislation we are talking about a market that will move a lot of money. There will be more and more liquidity in the sports betting markets allowing for the presence of bigger players like the Investment Funds that will eventually appear to generate returns in these markets.
Our Company has certainly moved in to this industry at the right time and first mover's advantage shall prove very important. We have an ever growing track record and our accounts are shown to investors with all the transparency. Because credibility comes with results and the results must be credible. Bet on Combat Investment also aims to be at the front of compliance and business practices as it is a necessary aspect to ensure investors consider alternative investment classes like this a real option.
It is in our horizon to have Bet on Combat™ start place bets in Nevada under SB 443 the latest by the end of Summer. By year end the target Funds Under Management for Bet on Combat™ is $150,000. During the rest of this year it is our expectation we keep accumulating a positive track record and that some of the interest shown so far in Bet on Combat translates into new capital. The Bet on Combat™ brand will be cemented throughout the year with appearences at several industry events to market this alternative investment product. Currently there are no publicly known competitors for Bet on Combat in the sports betting investment fund industry but we expect until year end to see some names pop up and position themselves as our competitors.
With sports betting becoming more mainstream and the industry growing, our goal is to establish BOC Fund as the standard. Consistently turning a profit, transparent and informative. With the passing of Nevada Senate Bill 443 (SB443) it is now legal to create a sport betting mutual fund. We want to be the leader of this marketplace and show that combat sports betting is a legitimate investment by outperforming the major stock indexes, mutual funds and Etf's, making sportbetting a real investment option for all.
Why Should You Invest
Combat sports betting as an investment is a better option than traditional investing methods for a variety of reasons. First, and perhaps most importantly, combat sports betting is a great investment because of the significant returns that are possible compared to more "established" mechanisms.
In a time of minimal or negative returns on mutual funds, RRSPs, real estate and other conventional holdings, The Bet on Combat Investor delivers 10-15% ROI per month. That translates into 60%-70% ROI over the course of a year. And while new to financial thinking, returns like that simply can't be ignored.
The current rates for a $10,000 money market account are in the neighborhood of 0.8 percent annually. A $10,000 cash deposit (CD) will get you a 1.36 percent return over a year period or 0.87 percent over six month period. So that means that if you have $10,000 and you want to invest it somewhere you can expect to earn anywhere from $100 to $200 back on it. Compare that to the BOC Fund returns on investments rates thanks to our winning predictions. Had you been investing with us, at $100 unit per Play, which would be the recommended amount with that bankroll, you would be up around $8,600. Now, consider the $795 that you would have paid for his full year's package and here is what you're looking at: spending nearly $800 back and earning back 10 times that amount. That makes it around a 1000 percent return on your initial investment.
Investors receive many other benefits by investing in BOC Fund, including strong legal protections and full disclosure. In addition, shareholders gain an extra layer of protection because BOC Fund has a board of directors looking out for shareholders' interests.
Note: Bet on Combat Group reserve the right to deny any applicant without explanation.
The information contained in this simplified prospectus should not be considered as personal investment advice or an offer or solicitation to invest. Comments and analyses contained in this website are provided for informational purposes only and reflect the opinions of Bet on Combat Group, LLC on the sports betting markets and BOC Fund's performance, based on their expertise, analyses and the information in its possession at the date of this document. BOC Fund™ is not under any obligation to update or keep current any of the information contained herein.
The performance indications referred to in this prospectus are no forecast or guarantee of future returns. Performance-related data do not take into account operating expenses, sales, redemption, distribution or optional charges or income taxes payable by any shareholder that would have reduced returns. Moreover, the value of the Investment Fund mentioned in this website and the income deriving therefrom can move down as well as up, and it is possible that investors will not recover their total initial outlay. Risk factors are described in detail in the prospectuses of the BOC Fund™. Please read the prospectus before investing. Mutual betting funds/sports funds are not guaranteed, their values change frequently and past performance may not be repeated. Just like traditional investment, you may not get back the amount of money you invest.
For further information about the BOC Fund, you can obtain a copy of these documents on our website at BetonCombat.com/Investing.
Join over 1,000 investors in the world's best performing betting platform and start earning your 2nd income.
Innovative. Intelligent. Investing
Frequently Asked Questions of BOC Investment
The following section details the answers to commonly asked questions regarding the Combat Sports Investment Fund also known as BOC Fund 1. Should you require more information please do not hesitate to
contact us
.
What type of company is Bet on Combat Investment Fund?
Bet on Combat Group LLC is one of the largest alternative sports investment managers in the world, which seeks out investors from anywhere in the world, with the purpose of placing wagers on the outcomes of sporting events to profit and divide between the group. Please click
here
for more information about our firm.
What is an alternative investment?
Traditionally defined as an investment outside the realm of stocks, bonds, real estate or commodities alternative investments include a wide range of asset classes. From more exotic segments such antiques or wine to mainstream alternative investments such as Hedge Funds with "quant" strategies or property management funds. Alternative investments have gained attention of investors worldwide looking for other place where excess returns might be more available.
When was the fund established and when did investing begin?
The Bet on Combat Investment Fund, LLC was established on January 1st, 2010 in Antigua. The Fund Manager, Franco Richard was also licensed by the State of Antigua and Barbuda on 01/17/10. The first investing began February 6, 2010 with
UFC 109: Relentless
.
Where are Bet on Combat's offices located?
Our headquarters is in St-John's, Antigua and we have offices in Montreal, Las Vegas, Paris, and Hong Kong. Please click
here
for more information about our office locations.
What is entity sports wagering?
Entity sports wagering is a new State of Nevada sports investment product that was made legal by the Nevada legislature and signed into law by Governor Sandoval on June 2, 2015. The newly passed
Senate Bill 443
allows Nevada entities (Nevada Sportsbooks to accept wagers from a pool of investors called "entities") to place sports wagers with investment funds from their investors from anywhere in the world, similar to a hedge fund or mutual fund, that is managed by an approved fund manager who has complete control of all investment decisions and meets all requirements established by the Nevada Gaming Commission. The pools are open to US residents, regardless of where they live, but the entity itself must be operated by someone located in the state of Nevada. Similar to mutual funds there can be entities that specialize in certain areas of sports. The laws purpose is to increase tax revenue due to the increased sports betting handle, slow the flow of American money being spent offshore with illegal bookmakers and create transparency in the domestic sports betting market. The law is now over a year old and progress has been slow adapting it to the sports betting scene in the state. This will change rapidly as the firms begin to show consistent returns, more entities get vetted, and additional sports book operators become involved. BOC Fund® is one of this new investment vehicle similar to a mutual or hedge fund, which returns has outperformed since its inception the top performing hedge funds on Wall Street. This form of investing is so new that the individuals getting involved now will shape the future of the sport wagering industry.
Who is CG Technology?
CG Technology is the sports book operator for the entity sports wagering program, which is the largest bookmaker in Las Vegas. They are the entity that accepts the entity investments tendered by the fund. CG is the equivalent of the NYSE or NASDAQ. They're the exchange promoting market liquidity. CG's sportsbook locations include the Venetian, the M Resort, and the Cosmopolitan, among others. You may see their website at www.cgtglobal.com. As additional sportsbooks come online BOC Fund will negotiate contracts to place wagers in their sports books also.
What's the minimum investment in the fund?
The current minimum investment is $1,000 for one Share in the fund. It's subject to increase due to high volume.
How do I know my account balance?
You will receive an electronic monthly statement showing all transactions and month end balance. You can also see on your Bet on Combat profile.
Why should you invest in the Bet on Combat Investment Fund?
Bet on Combat believes that sports betting is a profitable alternative form of investment not correlated to the financial markets.
Non-correlated Returns: The Bet on Combat's Fund returns are not correlated to the performance of traditional investment products such as stocks, bonds, property etc. Subsequently, the Bet on Combat Investment Fund can provide your investment portfolio with valuable diversification.
Investment Returns: Bet on Combat Investment Fund returns have historically been commensurate with other mainstream investment products. Subsequently, as part of an overall portfolio, an investment with Bet on Combat Investment Fund can bet highly attractive.
Recession Proof: The asset classes invested in by Bet on Combat Investment Fund are ostensibly impervious to domestic or global economic conditions and hence superior returns can be achieved more consistently.
Liquidity of Investment: Unlike other investment classes there is no lock up period associated with the investment. Subsequently, immediate access to invested funds is possible (see Question 10 below for more detail).
Tax-Free: The Bet on Combat Investment Fund provides investment returns that are tax-free, thus making the effective return superior to other investment products.
What kind of bets does Bet on Combat Investment Fund make?
BOC Fund® is a sports investment fund, focused primarily on the combat sports betting market. We are an exclusive combat sports investment fund. Our investment universe includes international boxing (WBC, WBA, WBO, IBF), Kick-boxing, Muay Thai (Glory, K-1) and Mixed Martial Arts (UFC, Bellator, ONE Championship, Professional Fighter League, Invicta, Titan). We will also consider others international events where appropriate.
Why only combat sports?
Simply because combat sports provides an ideal combination of profitable opportunities with sufficiently high betting limits. We do plan to expand to other sports in future years.
Can I find out the investment selections made?
Yes! You may opt to receive all investment selections via text 5-10 minutes before fight time. This will give you a rooting interest. We will send you notifications with game picks and we will provide updates on how your fund increases real-time. You will have transparency during and after all the action, making the experience easy and fun. Our database will be updated with all wagers and reflected in your account through our website www.BetonCombat.com. Stay tuned for our IOS and Android compatible app launching soon which will allow you to monitor your funds on the go.
What is Bet on Combat Investment Fund strategy and objective?
The performance objective of the funds is to mitigate much of the risk inherent with combat sports event betting and generate returns in excess of traditional stock market and global hedge fund indices such as S&P500 Index.
How does BOC Fund compare to investing in stocks/bonds?
BOC investors profited 82.1% in 2016 and generated an average annual return of 49.28% since inception! On most months, we've not only outperformed the S&P 500 index and every mutual fund, but have generated for our client's more superior returns than they could have made off any other types of investment!
There's a higher risk betting on combat sports than investing in bonds or T-bills, but when done correctly under a proven and disciplined bankroll system, it is safe and the rewards are much greater! Not to mention, it's infinitely more fun to wager on and profit from combat sports than stocks.
Can sports investing help with long-term wealth?
The single driving vision behind BOC Fund®, is the desire to enable and cultivate investing for young North Americans. Wealth disparity is at an all time high, while investing is at an all time low. BOC Fund® creates a fun experience, that scientifically has shown to be a superior alternative asset class compared to Wall St. investments, and grows the long-term wealth of its customers.
What is the duration of the investment required to achieve the goal of performance?
BOC Fund® focuses its activities on creating portfolios flexible, one-year or multi-year characterized by a rebalancing of the same at the beginning of each new year.
Does the Global market provide enough liquidity for an investment in an asset class of this type?
The short answer is yes. Global online investment was upward of US$144 billion in 2015.5 Global investment in sports and events is expected to grow at 5% in 2017, representing a gross win of over US$450bn.6 This provides sufficient liquidity and opportunity for Investment Fund to operate without having a detrimental effect on either the markets or the potential investment returns.
The medium term target for total funds under management (FUM) is $USD10 million. This figure is based on the current size of the global sports investing market, assumes minimal growth in this sector7 and the ability to readily deploy assets without materially effecting the markets within which the Bet on Combat Investment Fund operates.
If Bet on Combat Investment Fund has such good money-making systems and opportunities, then why the need to seek additional investors?
Bet on Combat Investment Fund was started solely with the founder's capital. This capital still accounts for over 60% of funds under management. Additional investment provides the advantages associated with scaling the business and allows access to many more investment opportunities. Moreover, the infrastructure and organisation that was developed to deploy the initial capital can readily be used to run its projects at a larger fund figure. It makes business and commercial sense to utilise, more fully, the existing infrastructure.
What is the investment structure and regulation of my investment?
One is not investing in shares in the Bet on Combat Investment Fund itself, but rather units in an investment fund that is being managed by a board of advisors.
Bet on Combat Investment Fund will maintain a register of all investors and their respective interests in the investment fund.
Bet on Combat Investment Fund is not a registered managed investment schemes, but rather it is being operated as small-scale private fund with limited investors. For this reason, the Bet on Combat Investment Fund avoid direct regulatory oversight, bypass licensing requirements applicable to investment companies, and operate with greater flexibility than mutual funds and other investment funds.
What is the optimum timeframe of my investment?
Funds are expected be invested for a minimum of 12 months although it is recommended that like other investment vehicles a 3-5 year time horizon be chosen.
Investment may be redeemed at any time after the initial 12 months in accordance with the procedures set out below.
Request to redeem Investment within the initial 12 months due to financial hardship will be considered.
How much will I pay in performance fees, taxes etc?
Bet on Combat Investment Fund will receive a performance fee of 30% of any investment return above the initial investment (payable bi-annually in arrears).
There are no entry or exit fees. All expenses will be the fully-responsibility of the Bet on Combat Investment Fund
Each investor will incur a 3% management fee (of starting FUM). The management fee will be incurred at the end of June each year (i.e 12 months in arrears pro-rata) and will only be charged if the individual account is in credit by at least +3% for the completed year.
Taxes will be the full responsibility of each investor.
The fund will distribute all returns on a before tax basis. Each investor will be responsible for tax (if any) on all their distributions even if they elect to reinvest some or all of these distributions.
Are there any other expenses?
Clients are responsible for the wire transfer fees on all deposits and withdrawals.
Why doesn't BOC Fund cover wire transfer fees?
Much the same reason why stock trading platforms don't cover transactions costs - a high turnover client, or a competitor posing as a client, could easily create havoc by making excessive transactions and rapidly escalating costs.
What is the procedure investment return calculations and reporting?
Investment return will be calculated before any performance fees and the deduction of management fees.
Reporting of returns will be presented to unit holders on July 15th (final) and January 15th (interim) each year.
Quarterly statements will be distributed to each investor and accessible via the website.
What is BOC Fund's fiscal year end?
BOC Fund's fiscal year end is December 31. Our reporting quarters correspond with calendar quarters.
Who is BOC Fund's independent auditor?
BOC Fund® use an independent Audit Committee chair by a Chief Audit Executive. Please click here for more information about the Audit Committee firm.
How do I get a copy of BOC Fund's latest annual report?
Please click here to access a copy of our latest annual report. You may request a hard copy be sent to you by clicking here.
What happens with distribution of dividends?
An investor can elect whether he/she chooses to receive distribution or have his/her distribution reinvested in the fund.
If the distribution option is selected, distribution will be made within 14 days of the reporting of returns. The fund will advise the amount payable as distributions two weeks prior to distribution date.
BOC shares, can typically be purchased or redeemed as needed at the fund's current net asset value (NAV) per share, which is sometimes expressed as NAVPS. A fund's NAV is derived by dividing the total value of the securities in the portfolio by the total amount of shares outstanding.
How to redeem your investment?
Please notify in writing the Bet on Combat Investment Fund with this intention, providing nominated bank account details.
60 days notice is needed owing to the requirement to liquidate in an orderly manner – if funds are required in less than 60 days, a 5% processing fee maybe incurred.
Redemption amount will be determined as at the most recent past distribution date.
When can I withdraw my profits from the Bet on Combat Investment Fund to my bank account?
As a BOC Fund Investor you can withdraw your profits on the 1st and 15th of every month. Just let the BOC Fund support team know ahead of time and you pay a standard bank wiring fee.
Why should I invest in the BOC Fund and not just bet on my own?
We've seen a lot of bettors come and go over the years. The top reasons why bettors fail are 1) lack of proper education and 2) betting without enough capital. The Bet on Combat Investment Fund solves both these issues and levels the playing field.
Plus, the Bet on Combat Investment Fund is an opportunity to trade with huge amounts of betting capital with NO annoying PDT Rule restriction like in the Stock Market.
How big is the betting fund and how many people are involved?
The value of the betting fund and the number of investors is protected information. Bet on Combat Investment Fund, LLC will be limiting initial participation as well as investment capital so as not to allow syndicate oriented influence.
Where are funds held?
All BOC Fund investors accounts are held by The Bank of Antigua (and in a FDIC insured Nevada bank). Our sports entity investment account is held by Bet on Combat Group, LLC.
Which authorities have primary responsibility for regulating funds, fund managers and those marketing funds?
The Eastern Caribbean Securities Exchange (ECSE) is the main regulatory body in the Antigua and Barbuda that oversees open-ended investment funds, fund managers and those marketing investment funds. The statutory framework under which ECSE derives its supervisory responsibilities (in respect of investment funds and investment managers) is set out in the Mutual Funds Law and the Securities Investment Business Law (the SIB Law).
*BOC Fund is not registered with the Securities and Exchange Commission, nor does it have to be for SB443. It is purely for reference.
Is it legal and regulated
BOC Fund® is completely legal thanks to the 2015 Nevada Entity Wagering Bill (Senate Bill 443), and is growing each and every day.
Is BOC Fund® an actual mutual fund?
Contrary to commonly used shorthand terminology in this nascent industry, entity wagering firms are not actual "mutual funds." Mutual funds require registration and ongoing compliance with the SEC.
Why do other entity wagering firms call themselves mutual funds?
They likely have not performed sufficient due diligence to understand that they are not actually mutual funds and shouldn't refer to themselves as such. Simply calling such a company a "fund" is fine, but "mutual fund" would in fact be misleading investors.
How do I know my investment is safe?
Online Notary is the answer. That's right! we partnered up with Notarize.com to integrate their service with our investors. Now you don't have to take a trip to the nearest post office or bank to notarize your application. Simply click through the wizard and you're done. Deposits are safe and securely made via Stripe. All parties will have records of all wire transfers for a clean and simplified paper trail.
Is my personal info safe and why do I need to provide personal information?
Our site offers the latest SSL encryption to keep your personal information safe. Just like opening an account in person at a sportsbook, personal information is required to invest.
Will I have to pay income tax on my investments?
No. This is a non-taxable investment.
Is there any risk?
As with any investment there is always the risk of losing your investments. Past performance cannot guarantee future results. We strongly advise all interested parties to seek financial advice prior to investing.
BOC Fund is committed to mitigating risk by exercising strict discipline in implementing our strategy, performing extensive analysis on the lines and limiting wagers to 5% of the fund value.
How do I know I can trust a firm like Bet on Combat Group, LLC?
Bet on Combat's Chief Financial Officer, holds the Chartered Financial Analyst designation, and thus is obligated to uphold fiduciary standards, meaning acting in the best interest of clients at all times and upholding a strict code of ethical standards. Violating this code can result in suspension or revocation of the charter.
What happens if I lose money?
BOC Fund charges 25% of investment profits; if profits are zero or negative, BOC Fund would not collect a fee. BOC Fund's philosophy is that if you don't make money, we don't make money.
Who can invest?
Investors can be from anywhere in the world, are 21 years of age or older and have valid identification. BOC Fund® is available to anyone aged 21 and over and from any jurisdiction. All potential investors go through a verification process which includes address, drivers license and proof of income. Investors must provide their name, residential address, valid photo identification which also verifies they are at least 21 years old and social security number. Please satisfy yourself however that under any taxation, foreign exchange or legal legislation in your home jurisdiction, that you are able to invest with Bet on Combat Investment Fund.
How do I get started? / How do I apply?
Simply complete an application form and return it to the Bet on Combat Investment Fund with full details of the proposed investment fund selection.
Step-by-Step Process:
Step 1: Register to become a member. Create a free user account via the Register page. You'll be ask to verify your email and then redirected back here to BetonCombat.com now ready to login by entering your username and password.
Step 2: Apply to become an investor. Go to the Investing page and complete the banking and personal information sections of the investment form. Turnaround time is usually 2-4 days.
Step 3: Get approved to invest. Upon approval and background check clearance by BOC Fund, clients make a wire transfer to BOC Fund's Bank of Antigua business account designed to hold investor funds.
Step 4: Investing on combat sports. The balance is then wired to BOC Fund's sportsbook account where wagers can be executed at a risk level previously determined.
Step 5: Watch your investment perform & enjoy with amazing results!
NOTE: Make certain you understand the program and that is best done by thoroughly reviewing the information on the web site. You may also speak with one of our staff members who will be happy to answer any questions. The next step if you decide to make an investment into the fund is to review and complete a fund Offering Agreement, a Subscription Agreement and a Operating Agreement.
ANTI-MONEY LAUNDERING REQUIREMENTS
The USA Patriot Act requires all financial institutions to obtain, verify, and record information that identifies each person who opens an account as a way of assisting the government in fighting the funding of terrorism and money laundering activities.
When you open an account, we will ask for your name, address, date of birth and other information that will allow us to identify you. We may also request to see your driver's license or other identifying documents.
Tell me how does the Pre-Authorized Investment Service Work?
BOC Fund Pre-authorized Investment debit is a convenient way of investing. It's easy. Just choose the amount you want to invest and how often you want to invest it. That amount will be automatically deducted from your checking account or charge your credit card and deposited in the BOC Fund to your name.
You'll invest money on a regular basis without even thinking about it. It's the easiest way to Invest.
How can I contact Investor Relations?
Shareholders wishing to send communications to the Board of Directors of Bet on Combat should send an email, write or telephone Noémie Melendez, Chief Financial Officer & Director of Investor Relations, at:
Noémie Melendez
Bet on Combat, LLC
1335 N. La Brea, Suite 2168
Los Angeles, California, 90028
Telephone: (514) 705-3366
Email: info@betoncombat.com
For further information about the fund, you can obtain a copy of these documents on our website at BetonCombat.com/Investing.
If you have questions or suggestions for website additions or subtractions, if you spot an error or if you just plain don't understand something, please send us an email at info@betoncombat.com. We'll do our best to get back to you.
Please create a free account before submitting an application form.