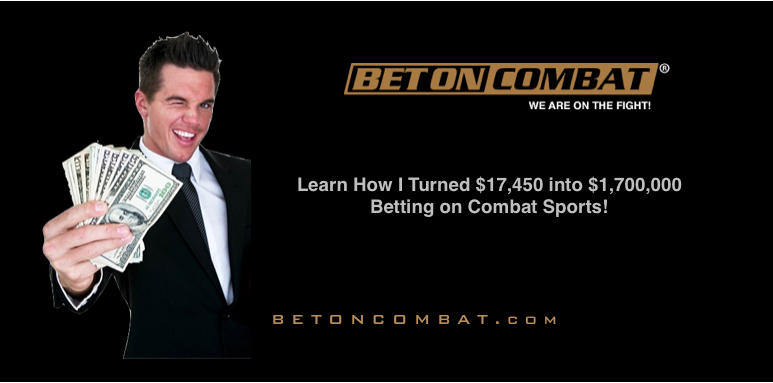 Los Angeles, CA, December 1, 2015 — Whether or not you know anything about the combat sports betting, leave everything up to Bet on Combat Founder Franco Richard best known as Francombat. He originally became known for having turned his life saving of about $17,450 into a cool $2.7 Million over three years betting on combat sports.
He went on to create a Combat Sports Investment Fund which became recognized as an exciting new alternative to traditional investment. A client list of 100 "high net worth individuals" whose minimum bet is $5000.00 invested. His story hit the gossip columns and he became the go to guy for high net worth bettors.
Not only does he intend to make back his fortune, he also believes he can help others learn to do the same. What he plans to do is start all over again and repeat his original feat. He will begin with the same $17,450 and bet openly until he makes a $2.7 million dollars for a second time.
I intent on repeating my original feat of turning few thousands into $100 000 so you can see exactly what I am doing and how I do it, this time teaching my niche strategy to my students for their learning and earning pleasure. Last time it took me 3 years to turn $17,450 into $2.7 million, but I was agressive, undisciplined, lucky, and in the right place at the right time. I'm a whole lot more conservative nowadays so I expect to reach my goal of $2.7 million within 5 years, instead of three. Now I'm very disciplined, never lucky, or aggressive and the market isn't as great for betting on combat sports as it was between 2004-2010).
I believe that everyone should learn combat sports betting, but people need to understand the markets better instead of betting randomly," he said. "The goal is to help everyone learn about combat sports speculation by laying it all out there and breaking it down to the basics. The good news is that, subscribers of my premium predictions are performing even better as I can teach them to avoid my own personal shortcomings."
I will show everyone exactly what I am doing so that they can watch and interact with me while learning my strategies.
Learn From The Bettor Who Turned $17,450 Into $2.7 Million.
You can follow his story and day to day activities at his web site betoncombat.com.