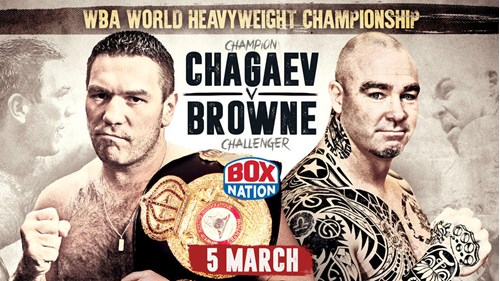 Heavyweight 12 rounds - Colosseum Sport Hall - Grozny, Russia - Saturday, March 05, 2016 2:00 PM Chagaev's WBA title on the line
ODDS: Chagaev – 275 Browne +225 from Bet365
Longtime title holder Ruslan Chagaev defends against Lucas Browne tomorrow in Russia. Chagaev, who seems well out of the spotlight, manages to stick around and be given great opportunities. How he was rewarded with a WBA "title" fight against Fres Oquendo is baffling. And he was more than fortunate to get the win in that fight.
Still, Chagaev has been around the block and can box a bit. The lefty seemed to peak in about 2007 with wins over John Ruiz and Nicolay Valuev. He has thickened out over the years and weighed in at nearly 250 pounds for this fight with Browne.
Browne is a big, strong Aussie that has made his way on the heavyweight scene over the past few years. I don't see him as heavyweight elite but I'd put him in the bottom of the top 10 or 12 in the world. He is a late comer to boxing and even at 36 may still be improving a bit.
He moves reasonably well for a larger man and has decent power. I think Chagaev at his best would likely outpoint Browne but Browne appears well trained for this bout and I'm just not sure what Chagaev has left.
Browne can likely bring more volume to the bout and based on how exhausted Chagaev was in the late rounds with Oquendo, I'd say the chances are good that his tank will be running dry late in the fight. I'm backing the underdog Browne to get it done on the road, probably by decision.
Middleweight 10 rounds - Sands Bethlehem Event Center - Bethlehem, Pennsylvania - Showtime - Saturday, March 05, 2016 10:00 PM
ODDS: Douglas – 275 Khurtsiidze +220 From Bet365
Antoine Douglas is a young middleweight prospect that will be taking on little known Russian fireplug Avtandil Khurtsiidze. Douglas is currently undefeated with good height and speed. He was originally scheduled to face rugged veteran campaigner Sam Solimon but when he fell out, Khurtsiidze stepped in on short notice to take the bout.
Douglass will likely be forced to box and move in this fight. Khurtsiidze is a straight forward pressure fighter. And while only 5'4, he is exceedingly strong and is often able to get close and force phone booth warfare even with the most elusive opponents.
As an example, Khurtsiidze may have been unfortunate to lose a close bout to nimble Olympian and 2 time title challenger Hassan N'Dam. Douglas is much taller than Khurtsiidze but I don't think he hits with enough authority and I don't think he moves well enough to stay away from the ever charging Khurtsiidze for a full 10 rounds.
Khurtsiidze is not a devastating puncher but he tends to break an opponents spirit with pressure and a strong up and down attack. Douglas will be able to land on Khurtsiidze but I see him getting outworked and possibly ground down over time. I'm going with a Khurtsiidze win either by decision or possibly a late rounds stoppage.