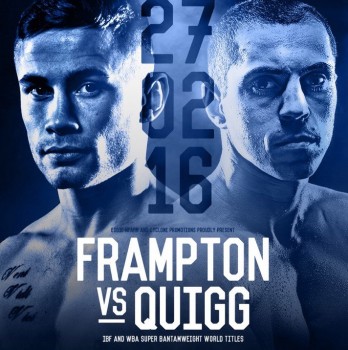 We have a great fight on tap today with Scott Quigg (+150) taking on Carl Frampton (-170) with two world title straps (IBF and WBA super bantamweight titles) on the line. A few years ago it seemed most would have picked Frampton to win easily but perceptions have shifted recently. Frampton was dropped twice in a recent winning effort against tough Mexican Alejandro Gonzalez Jr while Quigg stopped the usually teak tough Kiki Martinez in two rounds. And Martinez, a common opponent, has twice gone long into bouts twice with Frampton.
Quigg is a bit taller and longer while Frampton is the stockier of the two with a heavily muscled torso. In terms of one punch power I might tip Quigg's way but I think Frampton is the faster guy and better boxer. Quigg is easier to hit while Frampton will dart in and out often remaining unscathed.
Both fighters seems to have developed quite a bit of acrimony leading up to this bout. Neither man willing to give any quarter. The pressure has mounted in the buildup for this fight as there is a lot on the line. The winner of this bout will be a step closer to preeminence in the super bantamweight (122) division. And the victor will be in position to challenge the great Cuban expatriate Guillermo Rigondeaux, who many consider the top dog in the division.
Frampton looked vulnerable for the first time against Gonzalez but I would partially attest that to taking his opponent lightly. Most fighters claim they don't do that but I believe it is hard to get up for every fight. But this this one, I expect both will be well prepared to give their best.
All said and done, I think the talent and boxing ability of Frampton will carry the day. He has great fitness and speed coupled with physical strength and a good skillset. Quigg has looked very powerful in recent fights but I think he'll be looking at a different type of guy than he's seen before. I'm backing Frampton the get the win either by comfortable decision or a by a late stoppage in an exciting fight.