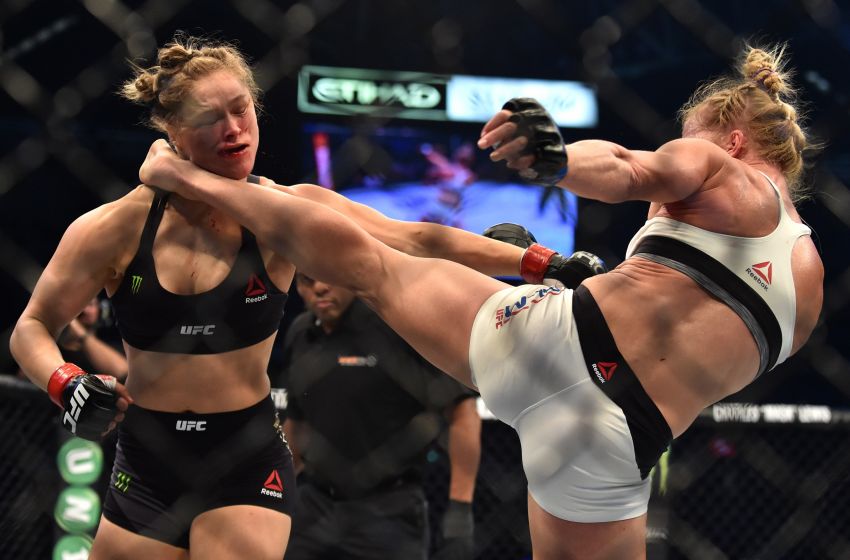 Despite being a massive betting underdog, Bet on Combat Founder Franco Richard best known as Francombat said he bet $2,500 on Holly Holm to get the victory against Ronda Rousey. Richard was able to get Holm at +1000 before the price went down and conservatively put two small bets of $1,000 and $1,500 to win $25,000. "I kept the bet size amounts small, but I knew Holm could beat Rousey with her superior striking and defend Rousey's takedowns last Saturday night. Few analysts and fans were giving Holly Holm a chance against Ronda Rousey. Anyone can predict a winner at 4-1 odds but predicting the winner at 10-1 odds and having it happen is special, Franco said."
That's how Francombat describes the $25 thousand payday he just took off a sports book in Las Vegas after cashing in a straight bet on Holly Holm to win the UFC Bantamweight championship belt against Ronda Rousey last Saturday night.
When asked about the highly-anticipated big fight between Jose Aldo and Conor McGregor on December 12, Richard said by the time Jose Aldo and Conor McGregor fight next week, his total investment in the fight will be more than $100K on the outcome.
And who's the Six-figure man picking? Conor McGregor
Technically, the 37-year-old professional bettor said he already put $100 thousand down on Conor McGregor to win at +135. Beyond that, Franco said he will also bet $10,000 on the "under," which stood at +140 on Saturday. That means the bookmaker sets a total (usually 1.5 rounds, 2.5 rounds) and you get to bet whether the fight will be finished before that time or after that time. Richard actually bet the under early, putting $10,000 to win $14,000.00.
So why is he so high on Conor McGregor?
Here are his three main points of analysis:
This fight will take place with both men standing and striking. I think McGregor will have the speed advantage against Jose Aldo. I see McGregor being able to out-strike Aldo with effective feints, angles and timing, and I think this fight won't go to the distance.
McGregor is the bigger fighter of the two. He know he has the power advantage and he has a four-inch advantage over Aldo in reach and knows how to use it to his advantage, proving to be the difference in the end.
What is more is that Conor McGregor's confidence is his greatest strengths. No one plays that mental game better than McGregor, and it could play a big role come fight night.
"Some of the best sports handicappers and respected sharps are on Aldo. I'm just not sure I agree with them this time," he said.