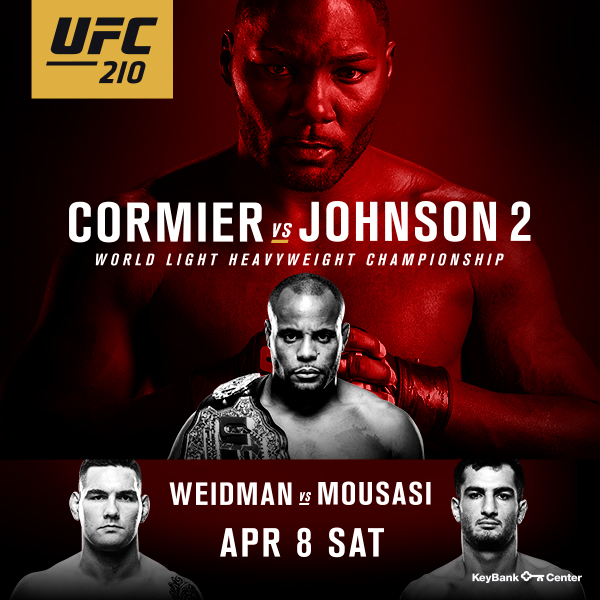 Event: UFC 210
Promotion: UFC
Date: April 8th, 2016
Arena: KeyBank Center
Broadcast: Fox Sports 1 and PPV
Finally, the UFC is back after a huge lay off with a pretty decent PPV card. The main event will feature Daniel Cormier vs Anthony Johnson for the UFC light heavyweight title. Even though Cormier won the first time, this fight is still pretty close and it will be interesting to see if Rumble can land that power shot to finish Cormier. To me personally I feel Cormier wins again. Rematches are hardly different than the first fight and I feel Cormier just has that style that is poison to Rumble and this fight will be no different than the first fight. In the co-main event we have Chris Weidman vs Gegard Mousasi. I really feel Weidman should be taking a tune up fight especially after losing two fights in a row. One thing to keep in perspective is that both of his losses weren't like he was getting dominated or beaten up he was actually winning or in those fights, he was facing the best in the world and lost because of a mental lapse and a flying knee. Mousasi is a very dangerous fighter and also very skilled so Weidman will have his hands full. I Feel Mousasi wins, which would be terrible for Weidman with 3 straight losses but I just think Mousasi has gotten too good and is hitting his stride at this point and time. Also featured on the card is the rising stars of Kamaru Usman, Will Brooks, Cynthia Calvillo, and Magomed Bibulatov. All these fighters will be looking to move up the rankings with huge wins and are in pretty good positions to do so.
For 2017 we remain 6-1 after our parlay bet got cancelled because Tom Breese wasn't able to fight at UFC Fight Night 107 due to weight cutting issues. Our ROI remains 61% with a total investment of $967 and winning a total amount of $600.
Will Brooks vs Charles Oliveira
Magomed Bibulatov vs Jenel Lausa
For this card I will be taking a two man parlay of Will Brooks and Magomed Bibulatov at -136 odds (bet $136 to win $100) Brooks will be out for redemption after what happened in his last fight and I just think he is too big and strong for Oliveira who will be at a size and strength disadvantage. Brooks will use his wrestling and dominate with it to win a decision. This is Bibulatov fight to lose and I don't see his opponent being able to with stand the wrestling and powerful ground game of Bibulatov. Bibulatov even has pretty good striking so I think his opponent is out matched here. Bibulatov wins via submission in round 1.
Prediction: Brooks and Bibulatov to win as a two man parlay
Stake: 3%
Please remember, while we give out one free prediction for every cards, the real money to be made is through the BOC Consulting services. To get official access to our exclusive bets become a Bet on Combat member today http://www.betoncombat.com/accounts/signup/ is where you can sign up. For some of you new to the betting world check our betting guide to learn how to bet on fights and our bookmakers review page for the best places to wager online. Enjoy the event!