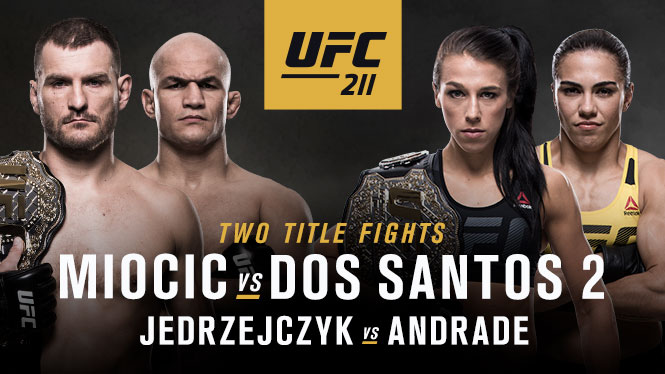 Event: UFC 211
Promotion: UFC
Date: May 13th, 2017
Arena: American Airlines Center
Broadcast: Fox Sports 1 and PPV
Finally, after a big lay off of three weeks the UFC is back with their biggest event of the year. This card should be titled ATT versus the world. American Top Team has seven fighters competing this weekend so it will be a big night for the famous MMA team. The main event will feature Stipe Miocic vs Junior Dos Santos for the heavyweight title. The main event will be highly a competitive fight and will ultimately come down to the cardio and take down defense of JDS. If JDS can stay upright and make it a boxing match he clearly has a chance. The odds may be a little stacked against JDS because Stipe is the better all around fighter and is way better than the last time they fought but it's a heavyweight fight so you just never know what will happen. In the co-main event Joanna Jedrzejczyk takes on Jessica Andrade for the straw weight title. Joanna has looked utterly unstoppable and the clear favorite over almost everybody she faces because of her striking and excellent take down defense. You can't totally ride off Andrade in this fight because Joanna has never faced a striker with this much power but unless Andrade lands a crisp shot and wins via TKO/KO she won't win this fight and it's a big if that she will land a shot that puts Joanna away. Joanna wins a decision most likely. The rest of the card is pretty loaded you have Damien Maia vs Masvidal, Frankie Edgar vs Yair Roodriguez, Eddie Alvarez vs Dustin Poirier, Henry Cejudo vs Sergio Pettis, Chas Skelly vs Jason Knight, and Krzysztof Jotko vs David Branch. If the UFC was looking to make a splash it was this card because up until now it has been eh for 2017. Definitely a card to watch because by the end of the night many questions will be answered that we have been waiting for.
For 2017 we are 7-3 after Swanson wasn't able to put away Lobov. I knew Lobov was tough but not this tough because Swanson landed a crazy percentage of strikes which was 70%. Lobov proved he is just not a simple push over but he did clearly lose the fight to Swanson so much respect to Lobov. Our ROI is now 46% with a total investment of $1,503 and winning a total amount of $700.
Stipe Miocic vs Junior Dos Santos
James Vick vs Marco Polo Reyes
For this card I will be taking a parlay of James Vick to win and the fight doesn't go to a decision with Miocic vs JDS at -148 odds (bet $148 to win $100) James Vick is the better fighter to me and the odds are justified here. I don't think Reyes can deal with the size of Vick to well and Vick has crisp boxing with slick submission skills. I think Vick will either out box Reyes or find a submission along the way. Miocic vs JDS is a heavyweight fight and we all know these don't tend to last because so much finishing power is involved. Both are excellent strikers and one of these guys will find a big shot to land and knock out somebody cold.
Prediction: Vick to win and Miocic vs JDS doesn't go to a decision parlay
Stake: 3%
Please remember, while we give out one free prediction for every cards, the real money to be made is through the BOC Consulting services. To get official access to our exclusive bets become a Bet on Combat member today http://www.betoncombat.com/accounts/signup/ is where you can sign up. For some of you new to the betting world check our betting guide to learn how to bet on fights and our bookmakers review page for the best places to wager online. Enjoy the event!