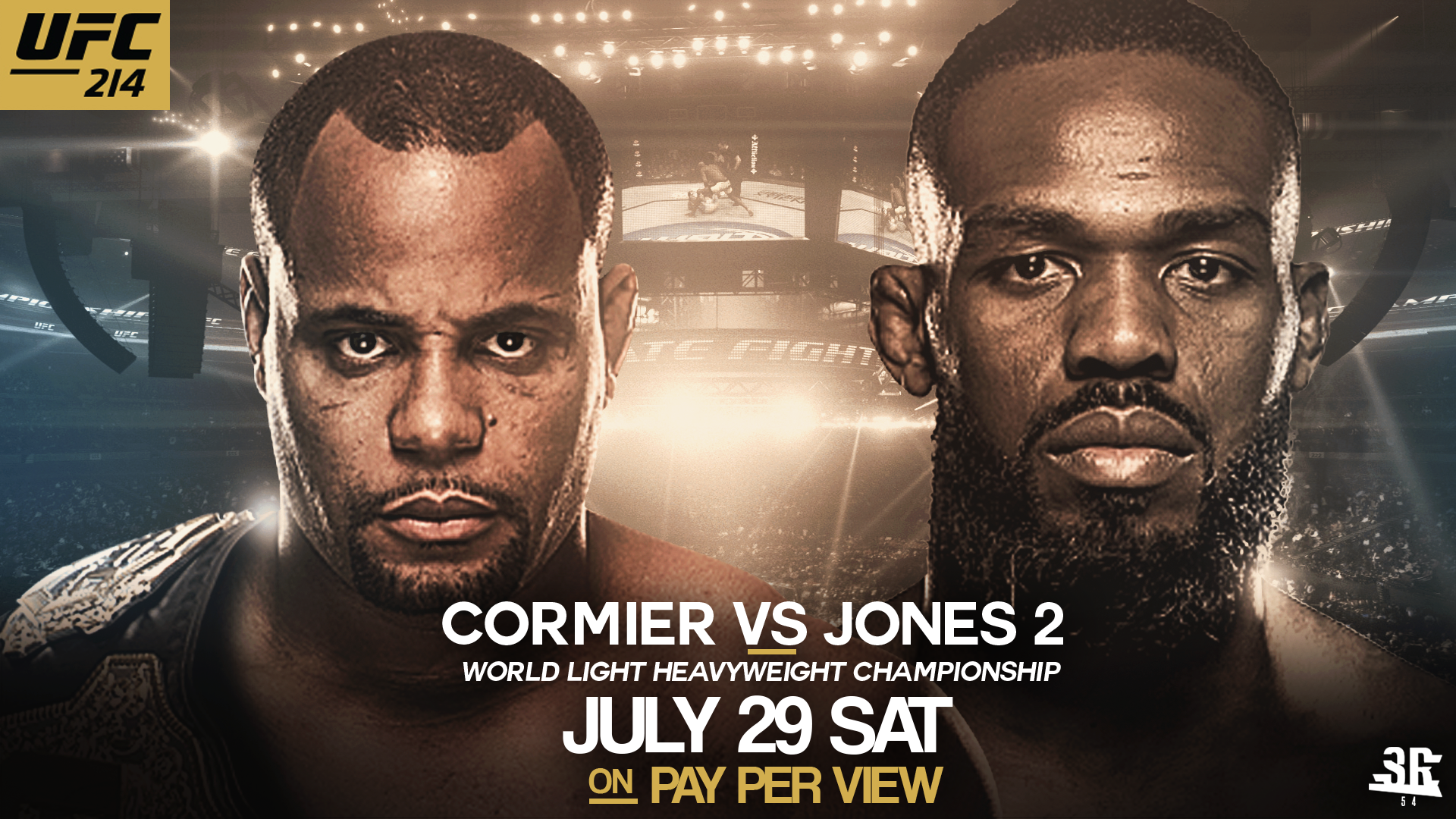 Event: UFC 214
Promotion: UFC
Date: July 29th, 2017
Venue: Honda Center
Broadcast: Fox Sports 1 and PPV
Finally we are here for Cormier vs Jones 2. Don't keep your fingers crossed just yet because anything can happen and the past has shown us otherwise. The UFC makes its way to Anaheim, California at the Honda Center with one of the biggest stacked cards to date with three title fights. Daniel Cormier will face Jon Jones for the light heavyweight belt, it seems like a eternity since the last time they fought and how many times this fight has been booked. Cormier legacy is on the line here, if he can't beat Jones I won't be surprised if he retires or calls it quits. Tyron Woodley will take on Damien Maia for the welterweight strap. This is the end of the road for Maia, if he can't beat Woodley he probably won't make it back for a title shot because they didn't even wanna give him this shot really because he is not a draw and not a real fan favorite. Cris Cyborg will take on Tonya Evinger for the vacant featherweight belt in which Cyborg should win versus another undersized featherweight who will just take a beating most likely. Another big fight is Robbie Lawler taking on Donald Cerrone at welterweight. Both Lawler and Cerrone are really good strikers so this fight will be filled with action. Lets not forget to mention Jimi Manuwa vs Volkan Oezdemir. Manuwa and Oezdemir can strike with heavy power so someone will probably be brutally knocked out in this light heavyweight showdown.
For 2017 we are 12-7 after Jeremy Kennedy was able to get the job done against Kyle Bochniak. Kennedy was just better in most places and you could tell he was just slightly a level above Bochniak. Our ROI is now 37%, with a total investment of $3,211 and winning a total amount of $1,200.
Tyron Woodley vs Demian Maia
For the card this weekend I have decided to take Tyron Woodley at -193 odds (bet $193 to win $100) Woodley is at his peak right now and I just can't see a older Maia being able to implement his game of jiu jitsu on Woodley. Woodley has great take down defense and will be much more athletic and explosive than Maia. I really feel Woodley wins inside the distance as well by tko/ko. Woodley is just younger, faster, and hard to get down so I see him getting it done and remaining champion.
Prediction: Woodley to win
Stake: 5%
Please remember, while we give out one free prediction for every cards, the real money to be made is through the BOC Consulting services. For seriouse investor only, you may as well want to invest in the world's premier combat sports managed fund right here in order to diversify your personal investment portfolio. I also invite you to join the one and only combat sports betting community and register a free account so you can get access to our chatroom and connect and interact with each other to discuss upcoming match-ups, odds, betting tips, predicitons, news, post fights and follow your favorite handicapping experts on the new social network for combat sports gamers. This means you can follow your mates and top ranked bettors, providing a very cool way to get authentic betting tips to improve your real money bets. We are a community of over 1,000 bettors that is dedicated towards helping each other make money from betting on fights. Start posting your picks, gain followers, build your reputation. For some of you new to the betting world check our betting guide to learn how to bet on fights and our bookmakers review page for the best places to wager online.
Enjoy the event!