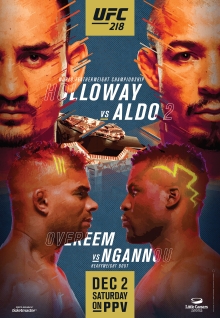 Event: UFC 218
Promotion: UFC
Date: December 2nd, 2017
Arena: Little Caesar's
Broadcast: Fox Sports 1 and PPV
The UFC is featuring a pretty good card as they make their way to Detroit, MI for UFC 218 which will feature a rematch between Max Holloway and Jose Aldo for the featherweight title. In Holloway's last performance versus Aldo he put on a stellar show, the best we've ever seen him fought and he will look to do the same in Detroit. With Frankie Edgar backing out because of injury, Aldo gets another crack at gold to get redemption. You really have to wonder where the head space of Aldo is at in this point in his career. He lost to McGregor badly, beats Frankie Edgar, and than loses again against Max Holloway in a terrible showing. If Holloway wins here not only has he beat a legend back to back. He's on his way to be one of the greatest featherweights ever. The co-headliner features a rising star who is Francis Ngannou against Alistair Overeem in a heavily anticipated heavyweight match up that will setup the winner to get a crack at the champ Stipe Miocic. Ngannou has been on a absolute tear as of late beating everyone. If he beats Overeem how could you deny him a shot at Miocic? You really couldn't. Overeem has won his last two fights since losing to the champ so if h wins he probably gets another crack at the belt. You wouldn't wanna miss the reem vs Ngannou because both guys can bang it out. My most anticipated fight on the card is Justin Gaethje versus Eddie Alvarez. Both these guys love to bring violence and honestly take too much damage when they fight because they are too hittable. Gaethje and Alvarez were rival coaches on this past season of the ultimate fighter, so expect violence and a all out brawl.
For 2017 we are 21-10 after Kelvin Gastelum was able to brutally knockout Michael Bisping in a stand up battle and Magomedsharipov was just able to over match his opponent with his superior striking and wrestling skills. Our ROI is 2% with a total investment of $118 and winning a total amount of $2.45.
Dominick Reyes vs Jeremy Kimball
Gaethje vs Alvarez fight doesn't go to a decision
For this card I will be doing a 2 man parlay of Reyes to win and Gaethje and Alvarez fight doesn't go to a decision at -150 odds (bet $150 to win $100) Reyes is just the better fighter overall with a slick ground game to go along with some good standup. However, the fight goes I see Reyes winning pretty handily against the so so Kimball. Gaethje and Alvarez fight is simple, both take way too much damage. I mean way too much damage. More than likely they will bring the violence and someone will get finished.
Prediction: Reyes to win and Gaethje vs Alvarez doesn't go to a decision parlay
Stake: 3%
Please remember, while we give out one free prediction for every cards, the real money to be made is through the BOC Consulting services. For serious investor only, you may as well want to invest in the world's premier combat sports managed fund right here in order to diversify your personal investment portfolio. I also invite you to join the one and only combat sports betting community and register a free account so you can get access to our chat room and connect and interact with each other to discuss upcoming match-ups, odds, betting tips, predicitons, news, post fights and follow your favorite handicapping experts on the new social network for combat sports gamers. This means you can follow your mates and top ranked bettors, providing a very cool way to get authentic betting tips to improve your real money bets. We are a community of over 1,000 bettors that is dedicated towards helping each other make money from betting on fights. Start posting your picks, gain followers, build your reputation. For some of you new to the betting world check our betting guide to learn how to bet on fights and our bookmakers review page for the best places to wager online.
Enjoy the event!