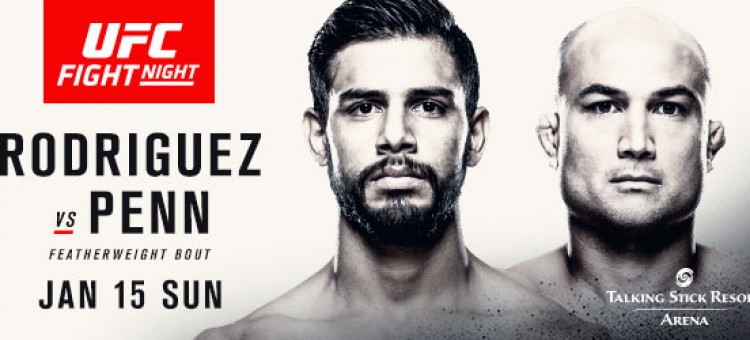 Event: UFC Fight Night 103
Promotion: UFC
Date: December 15th, 2016
Arena: Talking Stick Resort
City: Phoenix, Arizona
Broadcast: Fox Sports 1
It's a new year and should be new excitement as the UFC makes its way to Phoenix, Arizona with Yair Rodriguez vs BJ Penn as the main event. Penn really has nothing left to prove so he must've a itch to get back in there and do what he knows best which is fighting. Honestly, it's odd matchmaking to have Penn take on Rodriguez who really isn't a good match up and this fight could be ugly and I mean real ugly for Penn who has been away so long and one has to wonder where he really is fighting wise at this point and time. The card is OK but most of the time these type of cards turn out to be action packed so we will have to wait see and it all plays out. Held gets another old veteran as the UFC is trying to build him up but Lauzon won't be easy to beat because he doesn't look that far from done. The casual fans won't know a lot these fighters but like I said it will be worth the watch so make sure to tune in.
For 2017 we are starting from scratch 0-0 with the free predictions and I also will be adding the avg odds bet and the ROI (return on investment). In 2016 we went 29-8 with our free predictions. Hopefully we hit the same mark or do even better which shouldn't be too hard to do.
Donate some of your winnings to a great cause. I don't expect anything else from you and I never will. But if you did want to give something back, head over to my Twitter page and as the pinned Tweet you'll see I'm raising money for charity. Give your money to them instead of me.
Yair Rodriguez vs BJ Penn
I will be taking Rodriguez to win inside the distance at -180 odds (bet $180 to win $100) Penn is so old and has been out of the game so long I really doubt he has the same skills or even is ready for this new evolution of MMA. I just can't see Rodriguez losing he has the youth and the devastating striking skills to put away Penn. Penn in his last few fights looked so bad so I expect him to lose and lose in a bad way vs the future star Rodriguez.
Prediction: Rodriguez wins inside the distance
Stake: 3%
Please remember, while we give out one free prediction for every cards, the real money to be made is through the BOC Consulting services. To get official access to our exclusive bets become a Bet on Combat member today http://www.betoncombat.com/accounts/signup/ is where you can sign up. For some of you new to the betting world check our betting guide to learn how to bet on fights and our bookmakers review page for the best places to wager online. Enjoy the event!