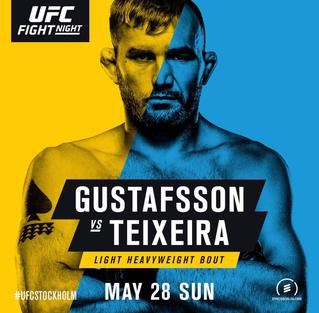 Event: UFC Fight Night 109
Promotion: UFC
Date: May 28th, 2017
Arena: Ericsson Globe
Broadcast: Fox Sports 1
The UFC is back in action in Stockholm, Sweden for Memorial Day weekend and the card is ok to say the least. Most people probably don't know a lot of these fighters but the one good thing is that the matchups are set up in a way to put on a show with the fans, so we could potentially see some finishes that will excite the fans. The card will feature the hometown favorite Alexander Gustaffson vs Glover Teixiera. This main event light heavyweight bout is a pivotal one and means huge implications for whoever wins. I wouldn't be shocked to see the loser of this fight retire because it's unlikely either guy gets to the top from here on out but with a win here could mean another run to get back to the top but it's unlikely. The co-main event is another huge fight in the light heavyweight division as Misha Cirkunov will take on Volkan Oezdemir. Cirkunov is the future of the division and the UFC has been moving him along quite nicely, with a win here though Cirkunov will be pushed up higher in the rankings and a big fight with him vs a top 5 guy is inevitable. Light heavyweight is a top heavy division and not much other talent depth is relevant so the UFC won't have a choice to put him versus a top guy so I feel soon we will really see what Cirkunov is made of. Other fighters to watch is Marcin Held, Abdul Razak Alhassan, Pedro Munhoz, and Ben Saunders. Held has come up short since joining the UFC and has lost to Diego Sanchez and Joe Lauzon. He legitimately lost to Sanchez but in my opinion got robbed vs Joe Lauzon. It will be interesting to see if he can find his way back and get a win. Alhassan is a absolute finisher, all 7 of his fights have ended in the first round and he's taking on a guy that will probably be number 8 who is finished in the first round because it's a great matchup for Alhassan to shine. Munhoz has looked impressive ever since he came off his suspension and is in a extreme fun fight versus Stasiak. Both fighters match up well but if they struggle to get anything going it could be ugly. Saunders finally gets some respect and is put on the main card. Saunders and Sobotta match up well and this fight is gonna be exciting. Saunders should out strike Sobotta but this fight will be a good one to watch. You gotta wake up a little early to watch this card but it will be worth it if you like finishes and good fights.
For 2017 we are 8-3 after our parlay of James Vick and the Stipe vs Santos fight not going to a decision. Vick is improving and keeps getting better, he literally finished a guy in such a way I came out real impressed. Vick is someone I have on my radar for now. Stipe vs JDS was a heavyweight fight in which both guys are great boxers so I just couldn't see this fight going 5 rounds with so much power flying in the air. Stipe is a beast and a couple more wins will put him in the GOAT discussion. Our ROI is now 48% with a total investment of $1,651 and winning a total amount of $800.
Marcin Held vs Damir Hadzovic
Abdul Razak Alhassan vs Omari Akhmedov
For this card I will be taking a parlay of Marcin Held and Abdul Razak Alhassan at -117 odds (bet $117 to win $100) Held should do well here it's a setup fight for him because I think he is a better fighter and he matches up well vs Hadzovic where he should be able to get back in the win column with a submission victory. Alhassan has a favorable matchup where his brutal finishing skills are trying to be put on display. I fully expect Alhassan to be the way better striker on the feet and will win by TKO/KO.
Prediction: Held and Alhassan to win parlay
Stake: 3%
Please remember, while we give out one free prediction for every cards, the real money to be made is through the BOC Consulting services. To get official access to our exclusive bets become a Bet on Combat member today http://www.betoncombat.com/accounts/signup/ is where you can sign up. For some of you new to the betting world check our betting guide to learn how to bet on fights and our bookmakers review page for the best places to wager online. Enjoy the event!