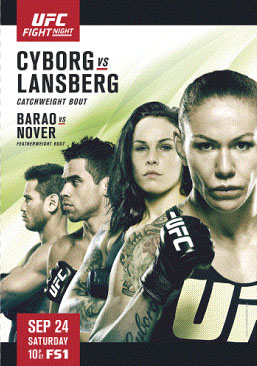 Event: UFC Fight Night 95
Promotion: UFC
Date: September 24th, 2016
Venue: Ginásio Nilson Nelson
City: Brasilia, Brazil
Broadcast: Fox Sports 1
Coming off another good week of fights UFC Fight Night 94 didn't disappoint and some fighters really made a case for them selfs. Michael Johnson was really impressive. Johnson came out really sharp and was stabbing Poirier with jabs and low kicks, the biggest factor in the fight though was the speed of Johnson and it showed evident he was much quicker, which resulted in him scoring a big KO vs Poirier who looked great up until this point. Big win for Johnson and is getting back in the mix. Our play last week was a straight bet of Derek Brunson at -180 odds and you staked 3% of your bankroll. Man, I didn't see the Brunson vs Hall fight ending how it did. Not bad for a man who is known for smothering his opponents with take downs. Brunson was aggressive but did well to not over extend because that had me a little worried he would over extend and Hall would counter with a big shot. Hall made a critical mistake and left his hands a little down and Brunson landed a lethal left cross and Hall flopped down like a sack of potatoes and Brunson jumped on him to finish it. That brings our free predictions to 22-4 which is 84.6% accuracy. Continue to tail and we won't disappoint you.
A total of 26 free predictions have been made since January 2016, with a record of 22-4. Had you placed a $100.00 bet on every prediction, you would've bet a total of $2,600 and had a total outcome of $2,200 winning a profit of $1,343.72 with a return on investment (ROI) of 51.6% (profit divided by total amount risked) using the industry standard metric of a $100 bettor, that's how much you would have currently made following Bet on Combat free predictions.
Featherweight Bout: Renan Barao (-400) vs Phillipe Nover (+300)
Middleweight Bout: Thiago Santos (-455) vs Eric Spicely (+320)
I will be parlaying Renan Barao at (-400) and Thiago Santos at (-455) which is -190, (bet $190 to win $100). Barao's opponent Nover is a softball and he isn't a top 10 fighter. Barao is just simply on another level and no matter how this fight goes striking or grappling Barao is gonna win. This fight is a mismatch. Santos vs Spicely is another mismatch. Spicely is literally being thrown up as a sacrificial lamb here. This step up in competition for Spicely is uncalled for and I see Santos landing a knockout in the first 2 rounds.
Prediction: Paraly of Renan Barao and Thiago Santos
Odds: -190
Stake: 5%
Please remember, while we give out one free prediction for every cards, the real money to be made is through the BOC Consulting services. To get official access to our exclusive bets become a Bet on Combat member today http://www.betoncombat.com/accounts/signup/ is where you can sign up. For some of you new to the betting world check our betting guide to learn how to bet on fights and our bookmakers review page for the best places to wager online. Enjoy the event!