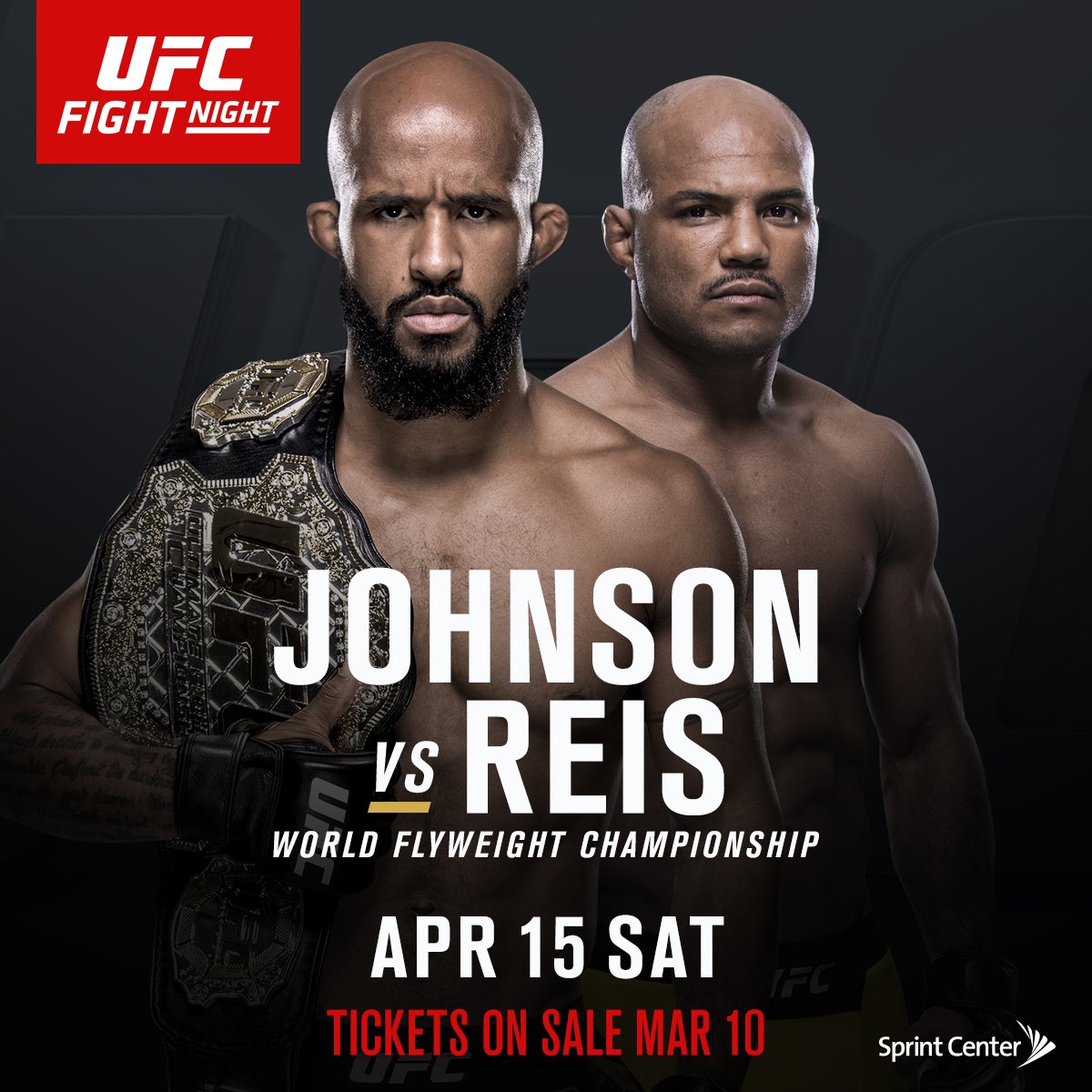 Event: UFC on Fox 24
Promotion: UFC
Date: April 15th, 2017
Arena: Sprint Center
Broadcast: Fox Sports
The UFC is in Kansas City this weekend with a pretty good Fox card that looks to be one of their better events with Demetrious Johnson going for his 10th title defense vs Wilson Reis in the headliner. Johnson is by far the best pound for pound fighter in the world and it's not even close in my opinion. Reis poses some ground and strength threats but you can't really pick against Johnson who is just too good everywhere and should handily get the job done. In the co-headliner we have Rose Namajunas vs Michelle Waterson. The UFC wants Waterson to win this fight by the looks of it because if you have watched all the promos and deals Waterson has got lately it's pretty clear who they want to win. This fight is a very close one but it will come down to who can impose their will of skills vs each other. We haven't seen the full potential of Namajunas, whereas with Waterson I don't see her getting any better than where she is now. I think Waterson wins but honestly it's a live betting spot to look and see how the fight will most likely go. Jacare Souza vs Robert Whittaker is a unbelievable fight at middleweight. Risky move by Jacare taking on Whittaker because Whittaker is very hard to get down and has great footwork. I can totally see Whittaker piecing him up on the feet but I can also see Jacare finding a submission as well even though Whittaker isn't the easiest fighter to get down. I know one thing it's not going the distance and hopefully its Jacare because I love his game but this match up is a tough one for Jacare. Tom Duquesnoy is the best prospect I've seen and this kid is someone to definitely watch out for, don't blink with this kid because that is how good of a finisher I think he is. Also, featured on the card is Roy Nelson, Alexander Volkov, Louis Smolka, Tim Elliott, Jeremy Stephens, Bobby Green, Rashid Magomedov, Aljamain Sterling, and Augusto Mendes. You definitely don't wanna miss this card because it's gonna be a great one!
For 2017 we are 6-2 after falling short on our parlay of Bibulatov and Brooks. Will Brooks in my eyes is officially over rated and put on a terrible display vs Oliveira. Brooks looked like he didn't even belong in there and that's the last time I will play him until he shows improvement. Our ROI is now 54% with a total investment of $1,103 and winning a total amount of $600.
Tom Duquesnoy vs Patrick Williams
For this card I will be taking Duquesnoy at -210 odds to win inside the distance (bet $210 to win $100) this kid is being setup to win big in his first UFC bout in a big way. Duquesnoy has crazy finishing skills and is very skilled, his opponent hasn't fought in 2 years so I don't see him posing much of a threat except for some power and athleticism he offers but other than that this is Duquesnoy fight to lose and should win in a big way.
Prediction: Duquesnoy wins inside the distance
Stake: 4%
Please remember, while we give out one free prediction for every cards, the real money to be made is through the BOC Consulting services. To get official access to our exclusive bets become a Bet on Combat member today http://www.betoncombat.com/accounts/signup/ is where you can sign up. For some of you new to the betting world check our betting guide to learn how to bet on fights and our bookmakers review page for the best places to wager online. Enjoy the event!