UFC 65: Bad Intentions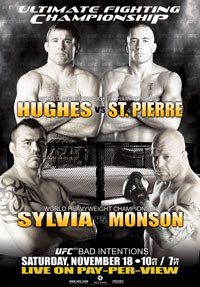 | | |
| --- | --- |
| Sport: | MMA |
| Promotion: | UFC |
| Date: | Nov. 18, 2006 |
| Venue: | ARCO Arena |
| City: | Sacramento, California |
| Broadcast: | PPV |
Straight Bet
Georges St-Pierre (+115)
Georges St. Pierre vs. Matt Hughes
Breakdown
Matt Hughes vs. Georges St-Pierre
The Canadian welterweight Champion will meet UFC champion Matt Hughes on Nov. 18 at UFC 65: Bad Intentions in Sacramento, Calif. St. Pierre was to have fought Hughes at UFC 63 on Sept. 23 but had to pull out after suffering a groin injury in training.
Hughes beat the 23-year-old St. Pierre at UFC 50: The War of '04 in October 2004 when he forced the Canadian to tap out due to an armbar with one second left in the first round.
UFC champion Matt Hughes from Hillsboro, Ill. has a record of 42-4 and won 19 of his last 20 fights including a submission victory over St. Pierre two years ago. Hughes will now have to avenged the lone blemish during that stretch, a loss to Penn at UFC 46: Supernatural in January 2004.
St. Pierre (12-1) is a talented fighter in his own right who is coming off his own win over Penn (UFC 58: USA vs. Canada in March). St. Pierre has all the physical tools he needs to be a champion and says he is totally fit after getting over a pulled groin tendon. Like Hughes, St. Pierre has won all four of his fights since then.
I like Georges St Pierre at plus money, he is definitely a live dog. I expect GSP to be too athletic for Hughes en route for a unanimous decision. St Pierre is just too athletic and well rounded for Matt Hughes. The athleticism here is too much and I see him winning by TKO.
Stake: 5%
Prediction
| | | |
| --- | --- | --- |
| Georges St. Pierre | vs. | Matt Hughes |
| -145 | Odds | +115 |
| 59.2% | Market % | 46.5% |
| 44.00% | Bet on Combat % | 56.00% |
| -15.2% | Inefficiency % | +9.5% |
Georges St-Pierre - Straight Bet
Odds:
+115
Risk:
$5000.00
To Win:
$5750.00
Outcome:
Win
Outcome:
Georges St-Pierre defeats Matt Hughes via TKO (Head Kick and Punches) at 1:25 of round 2.
Win