UFC 69: Shootout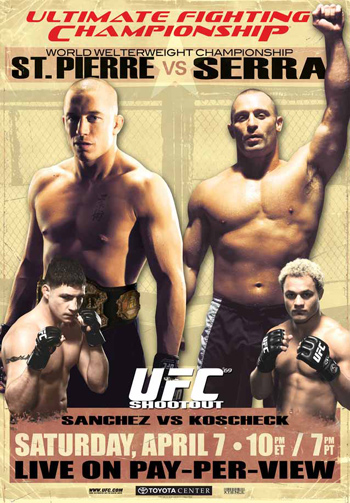 | | |
| --- | --- |
| Sport: | MMA |
| Promotion: | UFC |
| Date: | April 7, 2007 |
| Venue: | Toyota Center |
| City: | Houston, Texas, USA |
| Broadcast: | Pay-Per-View |
Straight Bet
Matt Serra (+700)
Georges St. Pierre vs. Matt Serra
Breakdown
Matt Serra vs. Georges St Pierre
Georges "Rush" St. Pierre is 13-1, with 6 wins by TKO and 4 wins by submission. St. Pierre's only loss was to Matt Hughes via submission in late 2004. Since then, St. Pierre has won 6 straight fights. St. Pierre is 7-1 in the UFC, with wins over Matt Hughes in a rematch, B.J. Penn, Sean Sherk, Frank Trigg, Jason Miller, Dave Strasser, Jay Hieron and Karo Parisyan. Now that's a resume!
Matt "the Terror" Serra is 8-4, with 4 wins by submission and 4 wins by decision. Serra has lost 3 times by decision and once by KO to Shonie Carter via an infamous spinning backfist. Serra is 5-4 in the UFC, with decision losses to Karo Parisyan, Din Thomas and B.J. Penn. Serra holds wins in the UFC over Yves Edwards, Kelly Dullanty, Jeff Curran, Ivan Menjivar and Chris Lytle in the TUF 4 final match to earn this title fight.
Matt "The Terror" Serra won his last fight during the TUF 4 Finale against Chris Lytle by Split Dicision. He is 32 years old; weighs 170 lbs. and stands at 5'6". Matt Serra is fighting out of Long Island, NY. He holds a MMA record of 15-4-0. He has a perfect ground game specializing in submissions.
There are going to be a lot of people who totally discount Serra and advocate betting on St-Pierre. Call me crazy, but I think Matt Serra is a good bet at +700. Let's not forget there is a thing called Serra Jiu-Jitsu. Serra is a seasoned veteran who's found ways to win in the past, including the TUF 4 tournament.
The odds are not in its favor but I believe Matt Serra can pull off this upset. There are no sure things when Georges St-Pierre is involved, having mental issue in the past. Being from Montreal myself and knowing what is going on with Georges's personal life and management I feel confortable with that big play.
Stake: 12%
Prediction
| | | |
| --- | --- | --- |
| Georges St. Pierre | vs. | Matt Serra |
| -950 | Odds | +700 |
| 90.5% | Market % | 12.5% |
| 45.00% | Bet on Combat % | 55.00% |
| -45.5% | Inefficiency % | +42.5% |
Matt Serra - Straight Bet
Odds:
+700
Risk:
$37000.00
To Win:
$259000.00
Outcome:
Win
Outcome:
Matt Serra defeats Georges St-Pierre via TKO (punches) at 3:25 of round 1.
I looked at the tickets — so many times that I lost count. Everyone said I was silly to bet 37k on Matt Serra to defeat GSP. Who's calling me silly now? I've got balls and that my friend, no one can't denied it! Some said it was a fluke. To me, that takes away from what Matt Serra did. I will say however, Georges St. Pierre may not have been right, but Matt Serra was the better man that night. Anything can happen in combat sports. And Matt Serra just proved it in knocking out Georges St-Pierre.
Matt Serra, the 7-to-1 underdog beat Georges St. Pierre by knockdown with a winging overhand in 3 mins 25 seconds of round one to become the new UFC Welterweight title holder. He followed that punch with another, then another and (as St.Pierre tried unsuccessfully to collect himself) capped MMA's greatest upset by knocking GSP senseless with a flurry on the ground.
Win